The Image to Text project
The Image to Text project has been presenting letters and other material from the Mary Hamilton Papers (archive GB 133 HAM) in the University of Manchester Library's Special Collections, containing 2474 pieces of correspondence, 16 diaries and 6 manuscript volumes, and housed at the John Rylands Library on Deansgate. From summer 2019 we began adding Hamilton material from other collections. From December 2019 the project was subsumed into 'Unlocking the Mary Hamilton Papers', and from 2022 the display of edited items was confined to Manchester Digital Collections.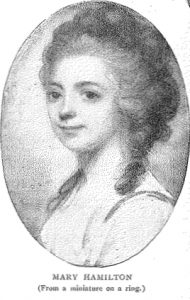 Transliterations
From 2013-14 to 2017-18, students on the course unit 'Modern English Language (1500-present)' each transliterated two letters from the Rylands' Hamilton collection and wrote a linguistic commentary. They were asked to reproduce the spelling and punctuation exactly, and to mark up their transliterations according to a subset of the copious TEI (Text Encoding Initiative) and XML (eXtensible Markup Language) guidelines. From 2014-15 they were joined by students from the University of Vigo, and from 2017, MA students from Uppsala University.
Each year a research assistant was employed to check transliterations and tagging and complete the TEI markup. These RAs were selected from students who had taken the Manchester course. George Bailey was RA in 2014. In that year only, each letter had been transliterated independently by two students, and the two versions were merged. George developed the first online presentation using XSL, CSS and JavaScript. Donald Morrison was RA in 2015, including for a substantial cluster of transliterations made by two dissertation students at Vigo in Spain. Donald contributed a large number of notes to the 2015 files. Isabella Formisano was RA in 2016, including for three letters transliterated at Vigo, and she too contributed many notes. Isabella continued as a research assistant in 2017, converting old transcriptions to XML. Sarah Connor was the RA in 2017 who prepared new files for online publication. Eva Huber did some unpaid work on a database of persons mentioned. Carla Seabra-Dacosta rearranged a number of XML files in logical rather than manuscript order and had begun on other tasks. Georgia Tutt was RA in 2018, coping not just with editing letters but a continuing revision of the TEI markup.
After discussion among three project members, carefully edited letters were made available via the project's table of Letters – 500 by November 2019. The transliterations are presented on-screen in a form that allows easy comparison with the corresponding digitised image or with a normalised text. However, the full XML text and TEI header may be more suitable for further research, or an original-spelling or normalised plain-text version. The two TXT archives are freely available for non-profit use on completion of our simple online form, available here. Information on corpus and project can also be found in the Corpus Resource Database (CoRD).
Other Hamilton papers have been transliterated in a separate project at the University of Zurich under the direction of Professor Marianne Hundt; find out more on the University of Zurich website.
Partnerships
From summer 2016, with the encouragement of the Library, we began planning a significant expansion of the project, and in November 2016 we were awarded a seedcorn grant by the John Rylands Research Institute, allowing us to add to the corpus and improve the annotation and markup of existing files. Revision of markup continues, and presentation of letters on the website has been overhauled. Meanwhile there were a number of collaborative contributions:
Further transliterations by Dr Erik Smitterberg's MA students at Uppsala University – gratefully received June 2019.
Raw transcriptions of some of Charlotte Gunning's letters by a student of Dr Anne Gardner's at the University of Zurich.
Transliterations by a dissertation student at Vigo and students on a new 'Undergraduate Scholars' programme at Manchester – gratefully received April-June 2019.
Transliterations of the first half of the Hamilton correspondence in the Royal Archives by a Learning Through Research intern at Manchester – editing in progress.
Transliterations by Dr Kate Gibson of many letters in the series HAM/1/11. HAM/1/12 and HAM/1/13 – editing in progress.
Upgrade of the image display to a digital image viewer.
History of the English Language at Manchester
From 2010, a number of final-year dissertation students in Linguistics and English Language edited folios of Middle English manuscripts held at the Rylands (not yet developed for online presentation), while from 2013, others transliterated letters as part of a coursework requirement. Students have worked mainly with digitised images (though many go to see the original documents too). Much of the material has never previously been edited or published, so students have the opportunity to make an original research contribution. Ideally, studying the history of English and working on 'their' text is a productive, two-way interaction.
Illustration from Anson & Anson (1925: frontispiece).
Project team
Principal investigators: Professor David Denison and Dr Nuria Yáñez-Bouza
Research assistants 2019: Emma Donington Kiey, Chenming Gao
Research assistant 2018: Georgia Tutt
Research assistants 2017: Carla Seabra-Dacosta, Isabella Formisano, Sarah Connor
Research assistant 2016: Isabella Formisano
Research assistant 2015: Donald Morrison
Research assistant 2014: George Bailey
Transliteration
2018-19 Emma Donington Kiey: Learning through Research intern, University of Manchester
Chenming Gao, Paula Gaskill, Mariana Sancho Moncasi, Seren Morgan-Roberts, Daniel Speight: students on the Undergraduate Scholars Programme (Editing a Georgian Archive), University of Manchester
Emma Alonso-Ramonet: dissertation student, University of Vigo
Mohamed Abdulrahman, Maximilian Andreasson Vigerust, Shormi Khan Choua, Mariola Kotromanac, Asia Kulig, Richard Mole, Catharina Gaby Romero, Josef Vidén, Dr Erik Smitterberg: MA students and course director (English in Transition II, 1500-1900), Uppsala University
2017-18 Usama Ali, Sam Cooper, Natalia De La Torre Bromley, Francesco Della Ferrera, Sana Ditta, Emily Ducat, Isak Ferati, Ana García Maquieira, Cristina García Rodríguez, Katie Grime, Parisa Hallgate, Joshua Hartley, Sam Hepburn, Ellie Jarvis, Lin Ji, Jérémie Josse, Taslima Kohinur, George Lee, Celeste Leonard, Qianru Li, Shiqi Li, Claudia Locatelli, Arianna Losa, Ella Lowson, Emily Morgan, Jane Neal, Ana Olveira Mariño, Asim Ramzan, Kayleigh Ryan, Raafia Shazad, Liqun Shi, Tiffany Winterburn, Yujue Yan: students on the course unit LELA30172 (Modern English Language, 1500-present), University of Manchester
Georgia Tutt: MA student on LELA70172
Jane Scanlon, former MA student, University of Manchester; Carmen Salas, student, University of Seville; Fabienne Toupin, Professor of English Linguistics, University of Tours; Kate Gibson, PhD student, University of Sheffield, and former Early Career Research Fellow, John Rylands Research Institute: volunteers
Maria Aldén, Natalya Hobbs, Frida Kardell, Md Nazmus Saqueb Kathon, Yelizaveta Kazarina, Linda Norrgård, Jacob Veenhuizen, Theresa Zhao, Julia Öman: MA students, Uppsala University
2016-17 Liam Bretag, Michael Cameron, Charlotte Campbell, Lucy Campbell, Sarah Connor, Joseph Gill, Laura Gritti, Jocelyn Hordern, Xiaoge Liu, Yuxiao Liu, Sonia Mills, Thomas Mills, Xinyu Shi, Hannah Smith, Chi Wang: students on LELA30172
Megan Speakman: MA student on LELA70172
Anna Alina, Athena Bras, Katarina Saarnia, Nasrin Siyahtiri, Amanda Widmalm, Dr Erik Smitterberg: MA students and course director, Uppsala University
2015-16 Sara Albán-Barcia, Noemí Antelo-Calvete, Laura García-Castro: students, University of Vigo
Rhia Abukhalil, Katie Ashworth, Kathryn Baldwin, Lucy Brookes, Ramón Carballo de Santiago, Louisa Coley, Pablo González Cabrera, Daniel Grogan, Rose Halligan, Olivia Holgate, Sophie Iveson, Stephanie James, Katharina Kolar, Anna Maguire, Alexandra Morton, Grace Ormerod, Rosie Pendrey, Ru Prescott, Amy Price, Adam Selby, Luke Sharma, Razia Sultana, Abigail Tait, Nicole Tamer, Jennifer van Hees, Georgia Wadsworth, Keely Watson: students on LELA30172
Aizhan Amangazina, Isabella Formisano, Thomas McKiernan, Ethan Newton, Almira Sejfic, Andrew Wells: MA students on LELA70172
2014-15 Emily Aston, Hollie Barker, Nicholas Barraclough, Connor Barrett, Joe Branker, Amy Brenndorfer, Olivia Colvin, Lucy Cook, Bridie Cottiss, Jannes Dahlhaus, †Tom Eckles, Joe Hargreaves, Izzy Harris, Jack Hurlock, Hope Isaac, Holly Jones, Jack Jones, Rachael Jones, Anna Lawson-Walker, Ruby Linden, Rachael Lunt, Marta Maffioletti, Adam Massey, Nik McNally, Donald Morrison, Emma Nabbs, Gabriel O'Connell, Mariachiara Peroni, Sam Potter, Laura Proctor, Jess Rigby, Gabbi Royle, Emma Saavedra Fernández, Marcus Sorton, Lauren Thomas, Rebecca Tiffany, Jake Tilley, Lara Uttenweiler, Martha Whitford Kelly, Hollie Wilson: students on LELA30171
Adriana Pérez-Pazo, Nerea Rodríguez-Estévez: dissertation students, University of Vigo
2013-14 Maddy Back, George Bailey, Chloe Bayode, Melissa Bottomley, Faye Broadbent, Lauren Brooks, Chris Carr, Rachael Cochrane, Marta Colleoni, Sarah Conlon, Kris Coombes, Ciara Cusack, Tom Dalton, Gillian Davies, Ella Dix-Nagra, Steph Dobson, Joseph Doherty, Ben Fearn, Jen Fitton, Harriet Fitzgerald-Allsopp, Nicola Fletcher, Amy Galbraith, Louisa Gerrard, Rachel Harrison, Emily Hodson, Huishi Hu, Alice Hunter, Tom Ingham, Aina Jabeen Khan, Anna Jones, Kim Kahan, Emma Kelly, James Kidd, Katy Lorimer, Alice McMahon, Momina Mohammed, Vicky Murphy, Abi Mylchreest, Umara Nasim, Ollie Nesbitt, Sam Nightingale, Mugi Oktyabri, Xiaoxin Ou, Rebecca Paxton, Hannah Phillips, Chun Qing, William Quamina, Kadie Ratchford, George Rowlands, Hala Shablak, Olivia Skinner, Gracie Smith, Laura Smith, Limeng Tang, Leo Thompson-Adams, Jenny Toner, Jo Tripney, Iago Valin Lopez, Rita Vivas García, Xiaoxuan Wang, Gemma Warren, Dan Whiteley, Kelly Wilby, Sarah Wolff, Mingzhen Wu, Yiwei Yin, Rui Zhang, Yangzi Zhou: students on LELA30171
2011-12 Andrew Gott: dissertation student, University of Manchester
Acknowledgements
We are grateful for the continued support and encouragement of staff at the John Rylands Library, notably John Hodgson, Joint Head of Special Collections, Carol Burrows, former Heritage Imaging Manager, and Fran Baker, former Archivist, Special Collections. We thank Fran for informative Library visits and for help at every stage. The ELGAR catalogue descriptions by Lisa Crawley have proved invaluable. Digital images are supplied by the Centre for Heritage Imaging and Collection Care (CHICC). We are very grateful to Jim McGrath, Research Software Engineer with IT Services, for major improvements to our display of letters, and to Christopher Whittick, Senior Archivist at East Sussex County Council, who has kindly helped with some troublesome readings. Sabine Seifert, Huw Jones and Martin Holmes have made helpful suggestions about TEI matters. Henri Kauhanen provided crucial advice on coding. Sebastian Hoffmann kindly provided word counts and a frequency list for the 2013-14 files.
The cost of research assistance was borne by the G. L. Brook bequest in 2013-14; by the Department of Linguistics and English Language in 2014-15, 2015-16 and 2017-18; and by a grant from the John Rylands Research Institute in 2017. In 2018-19 our RAs were funded by the University's Student Experience Internship programme and by the Department, respectively.
†Tom Eckles was prevented by illness from participating fully. Sadly, he died on 7 September 2015.